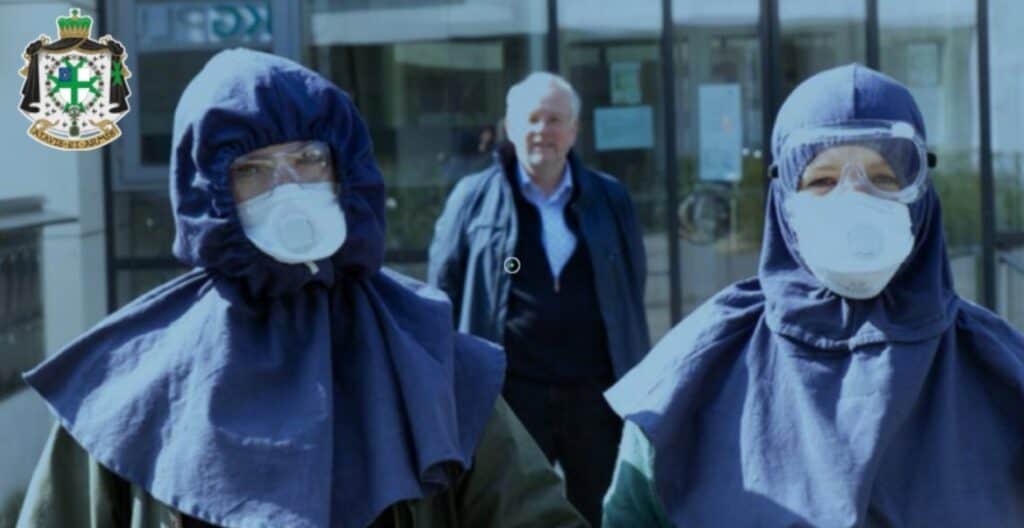 A few weeks ago, we distributed and published a description of how to manufacture a protective hood for nursing staff and emergency medical workers against a corona virus infection, on the initiative of our hospitaller, Confrere Prof. Dr. Joachim Gardemann. Prof. Gardemann is the director of the center of excellence for humanitarian aid at the "University of Applied Sciences" in Münster and has great experience in international humanitarian aid.
The volunteers of the CoroNO-team wrote the document with drawings and measurements in German and at the same time had an international version created in English using a "native translator". The description was prepared by the authors for publication so that it can be viewed on the publicly accessible Internet pages of the Order and made available for free download.
One of the honorary contributors is the 22-year-old student Larissa Bimberg. She comes from Wuppertal, where we also run a St. Lazarus house for seniors.
In this context, it is noteworthy that in all Lazarus homes of the Lazarus-Hilfswerk (GP-EU) (in care and support facilities and retirement homes) early introduction of infection control measures – shortly after the first Corona cases in Germany became known – has preevented any cases of the virus. Weeks in advance, protective measures were taken by the Lazarus team.
The federal manager of the Lazarus relief organization Dierk Sutter last week publicly praised the Lazarus team: "They have performed extremely well. This achievement is your success, which you can be proud of. The use of masks and the ban on entry with the in-house production of masks, the quarantine measures for hospital returnees and new admissions quickly achieved the highest level of security for our residents and staff in the Lazarus houses. We are very grateful and will acknowledge these remarkable services by you through the extra care bonus".
Sutter's appeal:
"Wear masks and protect others – Then the others will protect you!"