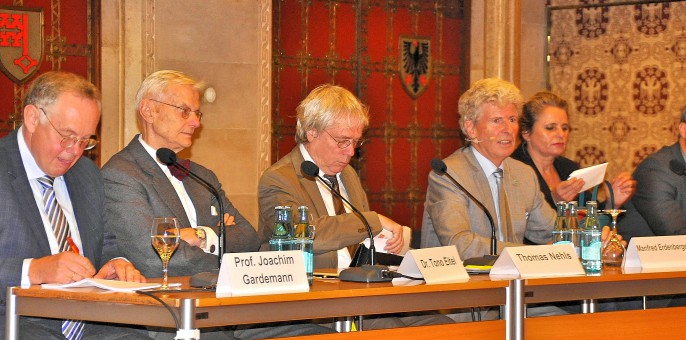 HUMANITARIAN GRAND PRIORY OF EUROPE
In a lively discussion, representatives from academia, diplomacy, media and humanitarian sectors debated on the opportunities and dangers of global peace. The German Initiative for the Middle East (DINO) sponsored the event in the ballroom of Münster Town Hall, which was held under the theme "Peace – a foreign word?". Chev. Manfred Erdenberger, KLJ together with Thomas Nehls, the former studio head of ARD in New York and director of WDR's Capitol Studios-Berlin, moderated the debate. Why are there so many conflicts? Why do these conflicts accumulate, and why are these not solved after years, or even decades?
For a full background report on this subject, see DINO at:
Haunted by the spectre of war, the participants discussed the possibilities of enforcing peace not only by military means, but also with so-called soft factors. Participants noted that today – a century after the beginning of the First World War, and here in the city where the Peace of Westphalia was framed – more and more conflicts continue to pile up worldwide. The fascinating discussion was moderated by DINO spokesman and member of the Humanitarian Grand Priory of Europe, Chev. Manfred Erdenberger KLJ.
The Panel's renown experts on Peace, and the Middle East, included: Elmar Brok, Member of the European Parliament (MEP) and Chairman of the Foreign Affairs Committee of the European Parliament; Dr. Tono Eitel, former Ambassador to Lebanon and the United Nations; " Spiegel" correspondent Susanne Koelbl; and Prof. Dr. Michael Quante, deputy executive director of the Department of Philosophy at the Westfälische Wilhelms-Universität. Representing the humanitarian community as a panel member was Commander Prof. Dr. Joachim Gardemann CMLJ, the Hospitaller for the Humanitarian Grand Priory of Europe (GPEU). Also attending were St.-Lazarus senior delegations from the GPEU, and from the Priory of Macedonia. On occasion of the Panel-discussion the Order's delegations were personally received by Münster's Mayor in the elegant Hall of Peace, at the historical City Hall.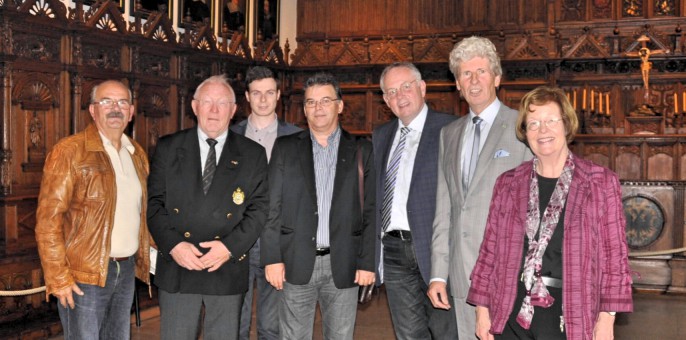 The "DINO" – Initiative for the Middle East – has been actively supported for many years by Spiritual Protector of the Order of Saint Lazarus, H.E. Patriarch Gregorios III. DINO, founded by Chev. Manfred Erdenberger, KLJ, has been actively sustained by members of the Order's GPEU). Key leaders involved in this critical global initiative include: Ministers of Foreign Affairs, Ambassadors, Representative of Christian Churches, Jouranalists and top ranking politicains from Luxemburg, Germany and the EU in Strasbourg.
Translation from German to Enlgish was provided by Chev. William Cox, KLJ