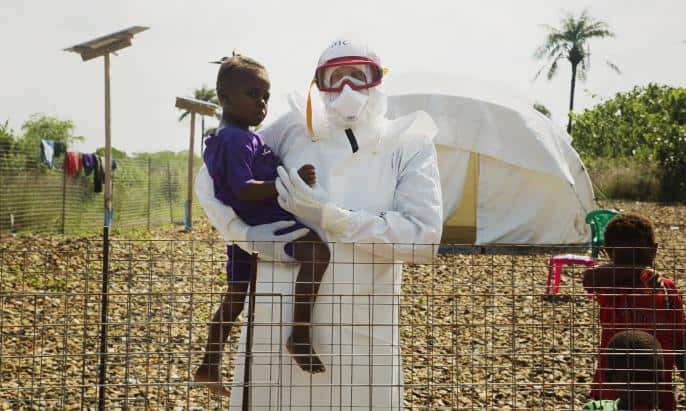 HUMANITARIAN GRAND PRIORY OF EUROPE
Confrère Prof. Dr. Joachim Gardemann, CMLJ – the Humanitarian Grand Priory of the Europe's Hospitaller, reports from Sierra Leone that cured Ebola patients now spread hope to others. Ebola spreads fear and terror, but the recent in-country experience by our Confrère Prof. Dr. Joachim Gardemann CMLJ, found that hope abounds. The pediatrician and Director of the Competence Center for Humanitarian Aid, at the University of Applied Sciences in Münster, has spent a week, so far, in Sierra Leone at the request, and on behalf of, the German Red Cross, where he assessed the situation and helped sufferers.
At the Grand Priory's recent meeting and investiture in Brauweiler, he was to personally receive the commendation and honor of CMLJ – Commander of Merit of the Military and Hospitaller Order of St. Lazarus of Jerusalem – from our Grand Master, bestowed upon him by our Order's Grand Chancellor. Unfortunately, Dr. Gardemann had to call from Sierra Leon to apologize for being retained in country, and therefore unable to make our annual meeting. In an email just sent, he has now described his first impressions from the Ebola zone in Kenema, where Commander Gardemann is serving as the senior medical officer at the Ebola treatment clinic. Shortly before his departure, the Membership of the GPEU sent him their deepest praise and heartfelt blessings. This message was personally delivered in Münster by the GPEU's leadership, His Excellency the Grand Prior, Chev. Klaus-Peter Pokolm, and Chev. Manfred Erdenberger. Both wished him a safe journey and return, as they also discussed the chivalric, operational, and historical aspects of the Order's now ancient and proud tradition of hospitaller service, and its potential dangers.
Commander Gardemann recently sent a hopeful first report from the field: "In the tropical temperatures of Sierra Leone, wearing personal protective equipment is limited to a maximum of one hour. Several cured Ebola patients have now been released from the treatment clinic here in Kenema. They carry this message back to their homes – that Ebola treatment clinics offer a real chance of survival. Many of the cured choose to remain as caregivers at the clinic. As survivors, they do not need to wear full protective equipment because of their newly acquired immunity to Ebola. As Chief Hospital Coordinator, I organize the entire treatment process, and coordinate with the local and international health authorities."
We will continue to report on the brave and critical mission carried out in Sierra Leone by our Brother, Commander Professor Dr. Joachim Gardemann. With his first report, he spreads hope of the virtues and honor that have continued to motivate our Members for some 900 years, as the Order continues with its original mission of helping the sick and infirm. This mission has always included those with the most debilitating diseases, such as leprosy – and now, today – Ebola.