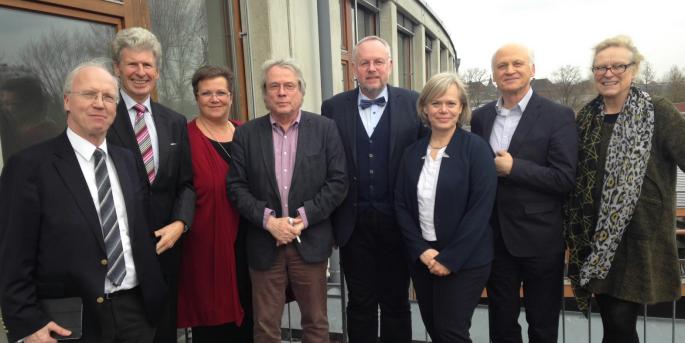 Members of the Board of Trustees of the German Initiative for the Middle East (Deutsche Initiative für den Nahen Osten – DINO) met at the Centre of Excellence for Humanitarian Aid of the Münster University of Applied Sciences (Kompetenzzentrum Humanitäre Hilfe der FH Münster) to discuss further cooperation and development of the Initiative at this historic Münster location.
The city of Münster views its importance as the venue for the negotiations leading to the Peace of Westphalia in 1648 as a lasting commitment to humanitarian and peace-building action in the present. It provides a location of unique significance for diplomatic soundings today.
Prof. Dr. Joachim Gardemann CLJ, head of the Centre of Excellence and a member of the DINO Advisory Board, had invited the participants to Münster. In addition to DINO's support for the peace process, help for those who suffer from the effects of the armed conflicts is a particular concern to for Prof. Gardemann, who is the Hospitaller of the Humanitarian Grand Priority Europe in the international Order of St. Lazarus. He has many years of practical experience. In future, Gardemann and his colleague Petra Seyfferth will intensify the existing cooperation, coordinate the activities, and represent the interests of DINO at the Münster location.
Since its inception, this Initiative has received strong support from members of the Order of St. Lazarus. The former Patriarch Gregorius III (Emeritus since 2017) is a member of DINO and has reported in several TV and radio broadcasts on his insights and experiences in the Holy Land, especially in Syria, through his involvement in the founding of DINO and subsequent events. GPEU Grand Prior Klaus-Peter Pokolm GCLJ is a Member of the Advisory Board, together with the President of the Evangelical Church in Germany and Werner Sonne (former long-time ARD and WDR correspondent in Washington).
The German Initiative for the Middle East was founded in September 2006. The first spokesman and instrumental founding member of the Initiative was Manfred Erdenberger KLJ, the former editor-in-chief of the WDR. Among the members of the Board of Trustees are:
Prof. Dr. Rita Süssmuth, former President of the Bundestag
Rudolf Dreßler, former ambassador of the Federal Republic of Germany to Israel
Prof. Sari Nusseibeh, former President of Al Quds University in Jerusalem
Prof. Moshe Zimmermann, Israeli historian and journalist
In view of the upheavals, wars and unrest in the region, DINO wants to support the difficult process of finding peaceful solutions.
To this end, the Initiative aims to encourage civil society in Germany to learn about the history and developments in the Middle East and to support peaceful ways of renewal. In the Middle East, it wants to support, by way of moderation, multipliers and outstanding personalities who are seeking opportunities for rapprochement.